BARTOLOMEO, Carrasco Dance Company
2017
Ubumuntu Arts Festival, Rwanda
2014
Turné "Worldtour",
APAP performance in New York – USA,
The Different Theatre for Children Festival, Vilnius – Lithuania,
The Belfast Children Festival, Belfast – Northern Ireland,
Festival Teatralia, Madrid – Spain,
Bravo Festival, Helsinki – Finland,
Ramallah Contemporary Dance Festival, Ramallah – State of Palestine,
Amman Contemporary Dance Festival, Amman – Jordan,
Swop Festival, Roskilde, Slagelse and Odsherred – Denmark,
The International Theater Festival OKINAWA for Young Audience, Tokyo, Okinawa and Naha – Japan.
2013
Riksteatern, vår- och höstturné.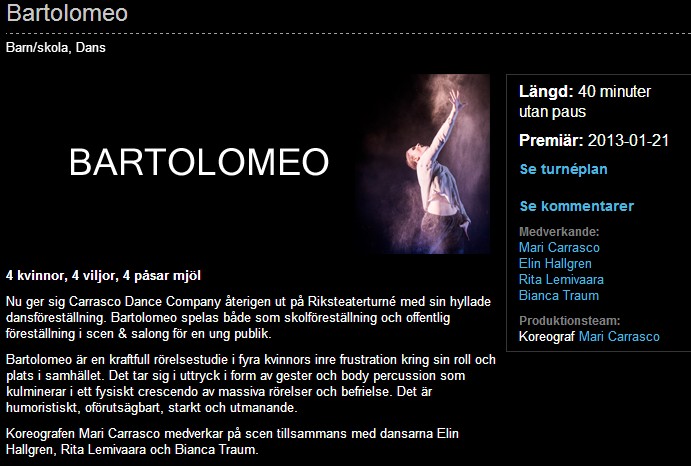 Trailer BARTOLOMEO 2013 from Mari Carrasco on Vimeo.
Skrivet från Sjöbo, "Tidningen KULTUREN"
Vita Bergen 2013

2012
"Malmö Sommarscen",
"Peace&Love-festivalen",
"Festival Mittkulturen",Härjedalens Kulturcentrum, Lillhärdal
"Turné för Norrlandsoperan",  i  Umeå, Vilhelmina, Storuman och Skellefteå
"SCENKONSTBIENNAL FÖR BARN OCH UNGDOM", bibu.se 2012 i Lund
"Utbudsdagar för Riksteatern",
Hallunda, Stockholm, Gävle,  Hässleholm, Uppsala, Ronneby, Västerås, Varberg, Falun,
"Swestage", i Hallunda.
"Showbox", i Oslo.
2011
"KLUBB FRESHEST /// Studion, Kulturhuset ",
"Jordbro världsmusikfest"
"Skolornas Kulturmässa, Bålsta"
"Certosa Arts Festival, Swedish Night",  i Certosa di San Giacomo, Capri Italien.
"Dansevent" ,Linköping.
"Celebration of womanhood" Kulturhuset i Stockholm.